Walk With Me Book Tour + Giveaway
My Review
Kenna Sloane is a college student. However she recently escaped her abusive parents and so a relationship is the last thing on Kenna's mind. The last person that Kenna Sloane wants to get involved with is Donovan Alexander. Who just happens to be a cop.

OMG, Donovan is such a hottie and sweet heart. It is always nice to find that there are still guys like this even if they exist in the book world. He won me over from the beginning. However as the story progressed and he kept doing the nicest things for Kenna, I could not help but love him more. For example when Kenna faked that she was sick. Donovan did not know this and sent Kenna a get well care package of soup and other items. I don't know how many other guys would do this after only the first date. Coming from an abusive household, Kenna was a strong woman. I mean she did have her moments but she did not let her situation get the best of her. I liked how their relationship blossomed from the first date to something really serious. The next book is Danielle's story. So now is the perfect time to check out this series.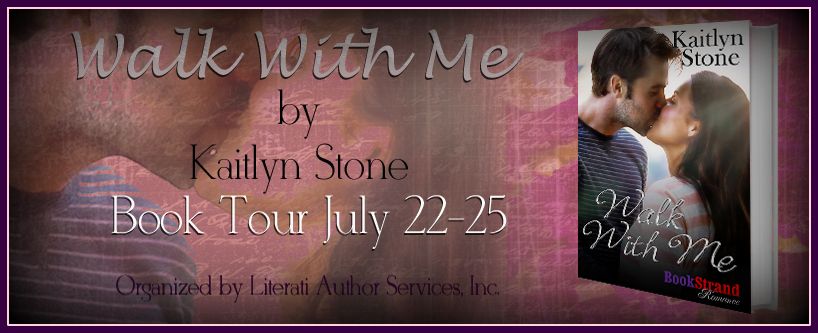 Title: Walk with Me (The Thin Blue Thread)
Author:  Kaitlyn Stone
Genre: Contemporary New Adult
Publish Date: July 22nd, 2014
Publisher: BookStrand
Oraganized by Literati Author Services
~ Synopsis ~
After escaping her abusive parents, nineteen-year-old Kenna Sloane is determined to create an independent life, free of emotional distraction. The last thing this focused college student wants is a relationship, especially with a hot rookie cop popular with the badge bunnies.
When Kenna reluctantly agrees to a double date with Santa Monica cop Donovan Alexander, she's launched on an exciting and dangerous journey. With time, she discovers some souls are instinctively drawn together to quiet the pain of their traumatic pasts. But even after the revelation of Donovan's own secret burden, Kenna continues to battle the fear she may be too broken for her modern day knight in blue.
Can Kenna open her heart to the healing light of true love before peril strikes?

Purchase Links
About the Author


 

Since childhood, Kaitlyn Stone has gravitated toward fairy tales and happily- ever-after's, forever chasing the first love dragon. She is a self-professed adventure junkie, constantly talking her husband and family into some new life adventure, where they've learned to just buckle up for the exciting ride. When they do stay home, it's in sunny Southern California located along the Pacific Ocean. 




Connect with the Author
Giveaway $25.00 Gift Card